Science museum closure unthinkable, councils say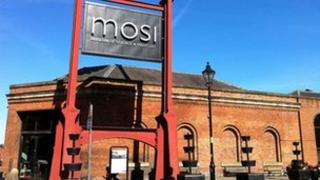 Three councils have joined forces to save science museums under threat of closure because of spending cuts.
Three museums in the north of England face possible closure after the Science Museum Group (SMG) that runs them said it was in a "weak" financial position
SMG runs the Museum of Science and Industry in Manchester, the National Railway Museum in York and the National Media Museum in Bradford.
Manchester, York and Bradford councils said any closure was "unthinkable".
'Inspire next generation'
The pledge was made in a joint statement by James Alexander, leader of York City Council, David Green, leader of Bradford City Council and Sir Richard Leese, leader of Manchester City Council.
"It would be unthinkable even to consider closing national museums, like the Victoria and Albert or the National History Museum, in London. Why then does it appear to be acceptable to discuss potential closures of national museums in Northern cities?" it said.
"The three northern national science museums are vital to the current local economies of our great cities, in total they contribute over £500m per annum and provide directly over 250 full time equivalent jobs in Yorkshire and Lancashire."
The leaders said the museums "not only host priceless national collections" but "educate and inspire the next generation of scientists and engineers".
They also called on the government to support SMG from the £13m science and society programme.
SMG director Ian Blatchford said the prospect of a further 10% cut in funding in the next round of government spending proposals meant there would be "little choice other than to close one of our museums".
He added: "I would rather have three world-class museums than four mediocre museums."
On Wednesday, in a statement, SMG said: "There have not been any decisions made to close museums, but we are looking at ways to save costs."
A spokesman for the Department for Culture, Media and Sport said it was an operational matter for SMG.