Police chase stolen car for 35 miles along the A27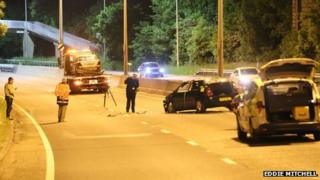 A stolen car was pursued at high speed by police for 35 miles from West Sussex to Hampshire where it hit another car.
Police said thieves stole a VW Passat from Steyning Sports Centre on Horsham Road at about 20:00 BST on Saturday.
Officers found it on the A27 but it did not stop and they began following it.
A Sussex force spokesman said the car was being driven so dangerously and on the wrong side of the road that officers stopped and told Hampshire police, who intercepted it at Emsworth.
'High speeds'
As the car was being stopped about 40 minutes after it was stolen, it crashed into another car travelling in the opposite direction.
The occupants of that vehicle suffered minor injuries.
One man was arrested at the crash scene but several others managed to get away and are now being sought by police.
Supt Di Roskilly said: "Thankfully, nobody was seriously injured in this incident, but many people witnessed this car driving extremely dangerously and at high speeds along a busy road and on occasions on the wrong side of the road."
Police have asked witnesses or anyone with information to contact them.