Balfour Beatty to close Dartford, Doncaster and Rochdale sites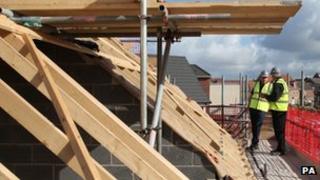 Construction group Balfour Beatty is to close three sites in the UK, putting at least 150 jobs at risk.
The announcement comes two months after the company warned that full-year profits would be hit by weak conditions in the UK construction market.
The affected sites are at Dartford in Kent, Rochdale in Greater Manchester and Doncaster in South Yorkshire - each employing between 50 and 90 people.
The firm has also appointed a new head of its struggling UK construction arm.
Nick Pollard, who has held senior roles at Network Rail and has worked as an adviser to the government, will run the UK division from next week.
Balfour Beatty said his appointment was "one element of the plan that has been developed to drive stronger profitability in the UK construction business".
'Insufficient activity'
It has undergone a review of its businesses since warning in April that it expected full-year profits at its UK arm to be £50m below expectations.
That included an assessment of the viability of its regional businesses.
"At our location in Dartford we have advised employees of our proposal to close this location due to a combination of insufficient construction activity and a disproportionately high cost base," Balfour Beatty said.
"This could result in a small number of job losses and the relocation of individuals.
"We have also identified that two smaller locations, in Rochdale and Doncaster, are no longer sustainable and, again, employees have been advised of our proposal to close these offices."
The company said it was too early to confirm the total number of redundancies, but said it would "explore all available options for the redeployment of employees across the group".
Meanwhile, it has been announced the firm has been awarded a £110m contract to build the 43-storey Providence Tower residential scheme in Canary Wharf in London.