Afghan shooting soldier 'led from the front'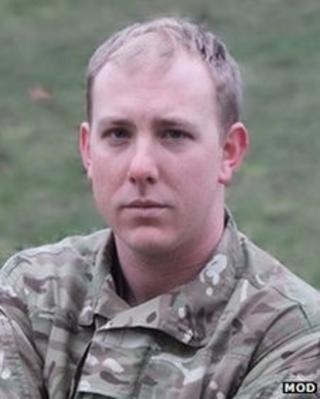 A soldier who was shot on the roof of a checkpoint in Afghanistan had earlier stopped one of his men from climbing the structure, an inquest has heard.
L/Cpl Matthew Smith, 26, of the Royal Engineers, was leading a section involved in building checkpoints in Nad Ali district, Helmand, in August 2012.
He told a colleague: "You're not going up there because if anything happens to you, your mother would kill me."
L/Cpl Smith died of a chest wound on active service, the coroner recorded.
Sgt Matthew Copping had earlier told the hearing that he had been about to climb the structure when L/Cpl Smith said he should not.
"That was typical of Matt. He led from the front and took every task on. He wasn't one to stand at the back," he said.
L/Cpl Smith, who grew up in Aldershot, Hampshire, and more recently lived in Farnham, Surrey, was "just 15 minutes" from completing the checkpoint when he came under fire.
He was given first aid and taken by helicopter to a field hospital at Camp Bastion but died from his wounds, the inquest in Alton heard.
The hearing was told the project to build the checkpoint had overrun as day broke on 10 August and infantry soldiers who had been used to provide a cordon to protect the engineers had been withdrawn under cover of darkness.
'Luck against him'
Capt Robert Fellows, in charge of the operation, said he had requested air cover but it did not arrive until after L/Cpl smith was shot.
Although L/Cpl Smith was wearing body armour, the high velocity round entered at the top of his shoulder and he suffered an exit wound to his abdomen.
Sarah Whitby, assistant deputy coroner for north Hampshire, said: "Luck was against him that day and the bullet hit the vulnerable part of his body armour.
"If he had been stood up straight, it might have hit the plates and he might have been here today.
"I cannot see anyone criticising the decision to complete the work. I have heard of a great group of people who are highly professional and we should be grateful for the actions of our armed forces, not only in Afghanistan but all around the world."
The soldier, who was born in Hong Kong, leaves a fiancee and four young children.