Greater Anglia 'misled court' over Stansted Express tickets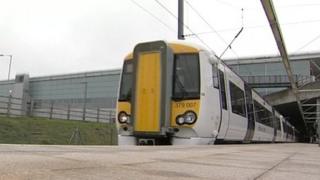 Train operator Greater Anglia "misled" a court over a deal to supply Stansted Express tickets, it has been alleged.
The company was negotiating with Ryanair to "operate a monopoly" of sales of the tickets at Dublin airport, Central London County Court heard.
Suffolk-based agency Ticket Generator claims Greater Anglia cut off its ticket supply, leading to its collapse.
Greater Anglia denied misleading the court and said it had never had a contract with Ticket Generator.
'Plainly wrong'
The allegations were made at an appeal on Thursday by Ticket Generator after its claim against Greater Anglia was struck out on 27 February.
At that hearing, the agency was ordered to pay £21,000 in costs.
Ian Wheaton, for Ticket Generator, said that decision had been "plainly wrong".
Ticket Generator, based in Bury St Edmunds, is seeking £213,356 from the rail firm in damages and what it claims are unpaid invoices.
The agency says it was licensed to sell tickets for the Stansted Express service from a number of other airports.
The service links Stansted Airport in Essex with central London.
Ticket Generator said a deal with National Express East Anglia to supply it with Stansted Express tickets was halted when Greater Anglia took over the franchise in February 2012.
'Strongly deny'
It maintains that Greater Anglia was attempting to negotiate an exclusive deal with Ryanair.
In order to fulfil its contracts, Ticket Generator maintains it had to buy tickets through a third party, Groundline, with Greater Anglia's knowledge.
Mr Wheaton said an email from Greater Anglia's head of sales Eleni Jordan to Groundline warned: "Under no circumstances must Ryanair find out that you are supplying these tickets to Ticket Generator."
He said that contradicted a statement given at the February hearing by Greater Anglia's commercial director Andrew Camp that it had asked Groundline not to supply Ticket Generator.
Ben Lask, for Greater Anglia, said: "We strongly deny having misled the court in any way."
He said the company had never entered into a contract with Ticket Generator, and that costs at the February hearing had been reasonable.
'Resounding' victory
The judge, Mr Justice Bailey, agreed there was no evidence of a contract with Ticket Generator.
Even if Greater Anglia had misled the court, he said, it was immaterial to the appeal.
Dismissing Ticket Generator's appeal, the judge said a previous decision to strike out the claim had been "entirely appropriate".
He said Greater Anglia won that hearing "resoundingly" and that while the costs awarded to them were "generous", they were not unreasonable.
He ordered Ticket Generator to pay £17,950 in costs.
The company said it would pursue its claim against Greater Anglia in the High Court.