Chancellor George Osborne sent science museum cuts letter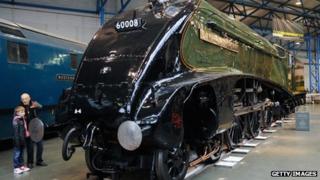 Council leaders representing 11 local authorities have sent a letter to the Chancellor expressing concern over potential cuts to museums in the north.
The Leeds City Region leaders wrote after a warning was issued by the Science Museum Group (SMG) last week.
It said either York's National Railway Museum, the National Media Museum in Bradford or the Museum of Science and Industry in Manchester could close.
The councils said the northern national museums played a "crucial role".
SMG, which also runs the Science Museum in London, has said a further 10% cut in government funding would leave it with "little choice" but to close one of the museums.
The council leaders said they were "equally concerned" about potential cuts at the National Coal Mining Museum in Wakefield, whose funding is contracted through SMG.
'Crucial role'
"This funding is ring-fenced until 2015, but after then it's up to the Science Museum Group how much funding the National Coal Mining Museum receives, so any further cuts to the group will inevitably affect its future viability," the letter said.
"These northern national museums play a crucial role in educating and inspiring future generations of scientists and engineers."
It also said the museums were vital to the local and regional economies of Bradford, York and Manchester.
Councillor Peter Box, leader of Wakefield Council and chair of the Leeds City Region Leaders Board, said the letter to George Osborne proposed that funding for the museums was moved from the Department for Culture, Media and Sport to the Department for Business, Innovation and Skills.
It also asked for the current level of funding to be protected in the "long-term interests of our northern cities and the nation as a whole".
The region said visitors to the National Media Museum contributed about £24m a year to the local economy, and the National Railway Museum brought in £40-50m.
Visitors to the Museum of Science and Industry provided about £28m to the local economy, it said.
The Leeds City Region brings together 11 local authorities: Barnsley, Bradford, Calderdale, Craven, Harrogate, Kirklees, Leeds, Selby, Wakefield, York and North Yorkshire County Council.