South West coast path: 'Majority' of cliff fall repairs made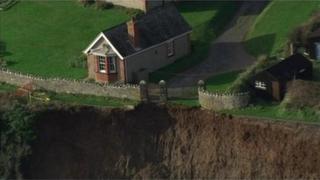 About 20 of the 30 land slips and cliff falls which affected the South West coast path have been repaired, a charity has said.
An "unprecedented" amount of falls disrupted the trail between November and April, the South West Coast Path Association stated.
It added some sections of the route might have to be permanently diverted.
The 630-mile (1,000km) path runs from Minehead in Somerset to Poole Harbour in Dorset.
Steve Church, from the association, said: "At a site near Looe, in south Cornwall, we might never get a proper coast path on the line of the coast, because of the severity of the fall and the difficulties of the geology in the area."
He added the path on the coast was "unlikely to ever be reinstated" and might have to be rerouted next to a road running parallel to the coast.
Mr Church said some of the cliff falls were "very severe" and resulted in "fairly lengthy diversions".
At Lannacombe, in Devon, a new path is being created after a "fairly substantial cliff fall" which left walkers facing a two-mile diversion.
It is expected to open later in the summer.
'Fairly substantial cost'
The association, which supports and promotes the path, said prolonged rainfall had made the cliffs along it far more unstable than normal.
Mr Church said the "vast majority of repairs have been made" and it was "a much healthier and happier picture".
The local authorities and the National Trust have been involved in the repair work.
Mr Church said he did not have an overall figure for the total cost but said it "must be fairly substantial".
In April, the South West Coast Path Association said research it commissioned last year estimated the direct spend attributable to walkers on the coast path in 2011 was more than £350m.