Sir Alex Ferguson's first Manchester United team sheet to be sold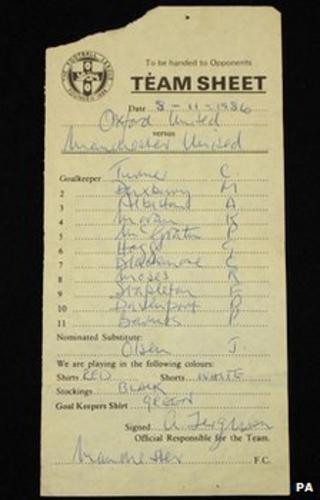 The Manchester United team sheet from Sir Alex Ferguson's first game in charge is to be auctioned.
The sheet from the game against Oxford United in 1986 has been valued at £2,000 by auctioneers Henry Aldridge and Son.
A spokesman for the Wiltshire auction house said it was being sold by a "lifelong Oxford fan".
He said the team on the sheet was "a little different to the star-studded affair [at] Sir Alex's last game".
The team includes well-known Manchester United stars including Irish stars Paul McGrath, Kevin Moran and Frank Stapleton.
Also in the side are less well-remembered players, including Scottish midfielder Graeme Hogg and England striker Peter Davenport.
The game, at Oxford's Manor Ground on Saturday 8 November 1986, ended in a 2-0 defeat for Sir Alex's side.
The auction house spokesman said it marked "an inauspicious start to a dynasty that yielded a record 13 Premier League titles and two Champions Leagues among its haul of over 30 trophies".
He added there had already been "significant interest from all over the world in the item".
The team sheet, which was given to its present owner by former Oxford player Peter Rhoades-Brown, will go under the hammer on Saturday.