Brownies force Manchester Arena food binning rethink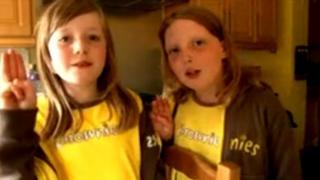 A major concert venue is to reconsider its policy of throwing away food confiscated from its events after a campaign by two Brownies.
Annie Simpson and Alice Wyborn, eight, from Urswick, Cumbria, had their food taken as they attended a One Direction gig at the Manchester Arena.
The girls asked for the food to be donated to homeless people but instead it was put in a bin bag.
The girls' MP contacted the venue which said it was reconsidering its policy.
Annie said: "All our food was taken off us and put into big black bin bags.
"They told us we might have used it as weapons to throw at One Direction. We'd never do that."
She said the food was going to be thrown away but they had seen a lot of homeless people on the way to the concert.
Back home the girls told the leader of their Brownie pack Pygmy Owl Alison Gifford, who contacted the venue.
'Brownie promise'
The girls were not happy with the arena's response and contacted Barrow Labour MP John Woodcock.
Ms Gifford said the girls were being true to their Brownie promise to help other people.
In a letter to Mr Woodcock, James Allen, the arena manager, said the venue made it clear to people attending that food was not allowed to be brought inside.
However, he added that the venue was to look at ways of minimising the amount of food confiscated and how these items could be "utilised for the community" without slowing down ticket checks.
"Please pass on my thanks to Alice and Annie for raising this valid point," said Mr Allen.
"It is great they have changed their mind," said Alice.
Annie said: "We're really pleased because it makes a better world."