Philip Baron: Drug-smuggling gang leader jailed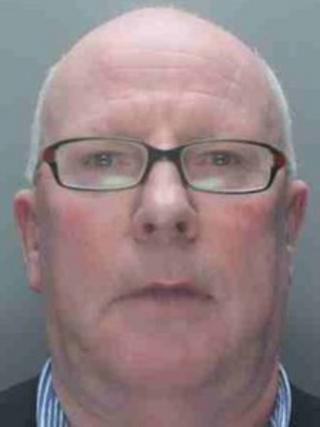 The leader of a gang that smuggled more than 52 tonnes of drugs into the UK has been jailed for 18 years.
Philip Baron, 58, from Salford, had previously admitted at Liverpool Crown Court to importing cocaine and cannabis and money laundering.
He was caught after a five-year investigation that also saw 28 members of his gang convicted and jailed.
Judge David Aubrey QC said Baron, along with the others, had been driven by "avarice and greed".
He added: "It was a trade and an empire and you cared not for the lives of others. You may have destroyed lives.
"It may have led people to commit crime. It may have led to despair and desperation. None of that concerned you.
"You were only concerned with yourself and leading a lavish lifestyle," said the judge.
The gang were brought down by evidence including calls made from prison by an accomplice, which police listened to.
The Serious Organised Crime Agency (Soca) said the group had smuggled drugs over the last 15 years and laundered millions of pounds of illegal profits.
Baron was living a luxury lifestyle with homes in Spain, the Republic of Ireland and the UK.
'Huge sums of cash'
While authorities in Ireland thought he ran a company which rented deckchairs in Spain, he was actually the kingpin in an international drugs importing ring.
William Baker, for the prosecution, told the court Baron was "one of the organisers of a highly sophisticated criminal enterprise.
"The drugs were concealed in document boxes labelled as items such as technical manuals or brochures, " he said.
The boxes were shipped from Spain using legitimate couriers to "virtual offices" or rented premises from where they were collected and supplied on.
"It was a highly profitable enterprise that generated huge sums of cash," Mr Baker said.
Mr Baker told the court that they had not got "anywhere near to the bottom of Philip Baron's finances".
Timothy Forte, defending, said his client accepted that he had played an "organising and leading role".
He said Baron was of previous good character and had pleaded guilty at the earliest opportunity.
Baron had admitted three counts including conspiracy to import cocaine between March and November 2008, conspiracy to import cannabis between September 2005 and September 2009, and money laundering.