Empty and derelict houses to get £91m refurbishment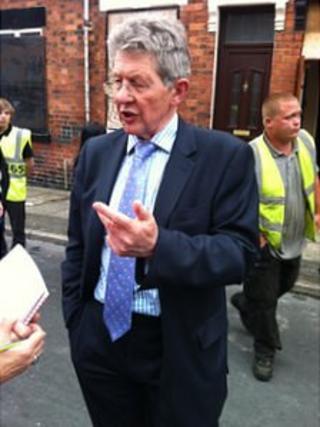 Towns and cities in England are to be given £91m to revamp 6,000 derelict and empty homes, the government has said.
It said the money was being given to areas outside London where empty houses had led to problems such as squatting and falling house prices.
Housing groups and councils applied for a share of the money in November 2012.
Communities minister Don Foster made the announcement on a visit to Stoke-on-Trent, where empty houses are being sold for £1.
Mr Foster said: "The government is doing everything possible to tackle the problem of empty homes and urban blight.
"This will bring people, shops and jobs back to once abandoned areas, and provide extra affordable homes we so badly need."
Ten point review
He said £61m would come from the Empty Homes Funding programme, £41m of which would be allocated by the Homes and Communities Agency to registered social landlords and community and voluntary groups.
Areas including Liverpool, Manchester, Newcastle and Middlesbrough would refurbish 3,500 empty homes with £30m from the Clusters of Empty Homes programme, he said.
Mr Foster is also urging councils to sign up to restoration expert George Clarke's ten point review for housing regeneration areas.
It supports schemes such as the one in Stoke-on-Trent in which 35 empty homes are being sold by the city council for £1.
The houses in the Portland Street area of Cobridge were due to be demolished and the area redeveloped until the government Pathfinder scheme was scrapped.
While visiting the houses, Mr Foster said the £1 initiative would help to "reinvigorate the community."
He said: "A very significant amount of this money will benefit the Midlands and North, including towns that saw whole areas that become abandoned and 'no go' by the previous government's Pathfinder programme of demolitions that we have put a stop to."