West Cheshire College to cut 90 jobs to save £2m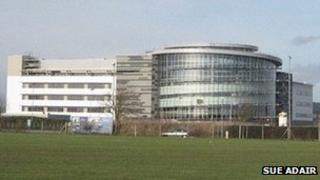 Up to 90 teaching and administration jobs could be cut at a college in Cheshire in a bid to save about £2m.
West Cheshire College, which has campuses in Chester and Ellesmere Port, said it needed to become "more effective and efficient".
Staff will be consulted on the plans, which are due to take effect by September, principal Nigel Davies said.
The University and College Union (UCU) said it was "extremely concerned at the scale of the college's proposals".
A college spokeswoman said the proposed cuts were as a result of "a number of key factors including reduced funding allocations in 2012-13 and 2013-14 from several principal funding bodies".
She said the college was "looking to make savings of approximately £1.9m, which will include reducing pay and non-pay expenditure [and] is similarly pursuing avenues of expected income growth".
'Completely opposed'
Mr Davies, who took over the role of principal in May, said the institution had been forced to make "some extremely difficult management decisions but they have been imperative to ensure we continue to fulfil our core function of meeting the educational needs of individuals, communities and industry".
The further education college, which moved into new buildings in both Ellesmere Port and Chester in 2011, employs 878 staff across its campuses.
The college said it hoped to minimise the number of compulsory redundancies by redeploying staff and not filling behind vacant posts.
The UCU's Martyn Moss said the union was "completely opposed to compulsory redundancies".
"Significant cuts to provision are not the answer," he said.
"We are extremely concerned at the scale of the college's proposals, the impact they will have on staff and on students' education and will be fully scrutinising them."