Calls for East Coast mainline to stay in public hands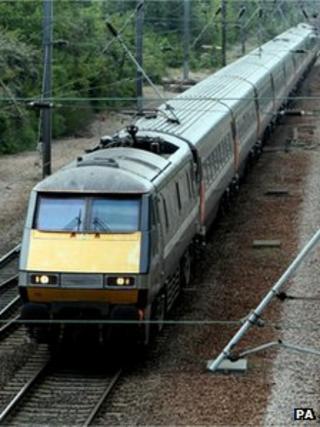 It is an issue that won't go away at Westminster. Why is the Government in such a rush to return the East Coast main line to private ownership?
In recent weeks the line which runs through Peterborough and Stevenage has been the subject of a Select Committee hearing and a Westminster Hall debate. This week the issue made it on to the floor of the main chamber in a debate organised by the backbench business committee.
Labour are convinced that since being taken back into public ownership in 2009, when National Express said it could no longer afford to run it, the line has improved considerably and passengers are pleased with the service. It can't understand why the Government is prioritising its return to the private sector when the renewal of so many other franchises are being delayed.
"It makes no sense to privatise a service that is working," said transport spokesman Lilian Greenwood.
She added that in public ownership the service had been "quietly and successfully improving the quality of journeys".
Sheila Gilmore MP (Edinburgh East), who had called the debate in the first place, claimed that "to rush this process does seem to be putting some form of ideology above common sense".
But the Government argues that the service has now hit a plateau and it is the right time for a new operator to take over this important line and make it work.
Top Three
Stewart Jackson, MP for Peterborough and a regular user of the line, bravely admitted that he recently got on an East Coast train which he thought was stopping at Peterborough, only to find that the first stop was York. He conceded that "the current provider of the service has done a good job" but added that "the situation is not perfect".
"The East Coast is the worst performing train company in terms of punctuality. Only 82.8% of services arrived on time in the period up to 31 March 2013, compared with 97% of services provided by C2C (in Essex), which is the best performing train company," he said.
Labour disputes his figures, pointing out that during that period the line was badly hit by the weather. Ms Gilmore claimed that on average the "East Coast is in the top three of the seven long distance franchises".
But the Government still believes that the country's rail service is better in the hands of the private sector.
The Rail minister and Chelmsford MP, Simon Burns, said the franchise was "valuable", adding: "That's why I believe it should be returned to the public sector as soon as possible.
"We remain committed to obtaining for the East Coast passenger and taxpayers the benefits we have seen since privatisation."
In other words, his plan to have the service back in private hands by early 2015 remains on track.
But Labour are still unhappy. They say they'll keep on asking questions.