Jailed teacher Jeremy Forrest faces collusion investigation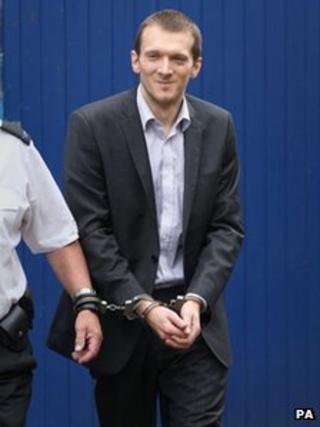 Police are investigating whether teacher Jeremy Forrest indirectly contacted the schoolgirl he abducted to get her to change her story.
Forrest was jailed for five and a half years for abducting and having sex with the 15-year-old he took to France.
The 30-year-old, from Petts Wood, London, was convicted at Lewes Crown Court on Thursday of child abduction.
He pleaded guilty to five charges of sexual activity with a child shortly before he was sentenced.
Judge Michael Lawson QC questioned the evidence given by the girl in court as it varied from her original police interviews.
Her evidence fitted with Forrest's defence that he took her to France to prevent her from succumbing to suicidal tendencies.
The judge told Forrest: "You have contested the abduction charge, raising a spurious defence so that she had to give evidence, evidence very different in content from her original account and designed to support it.
"She had clearly received assistance in relation to what she should say."
'Unknown third party'
At the end of the sentencing hearing, Judge Lawson asked prosecutor Richard Barton if there was evidence of collusion.
The judge said: "Is there material to suggest communication, indirect communication between the parties?"
Mr Barton replied: "There is material to suggest indirect communication between an unknown third party and police are aware of that."
A Sussex Police spokeswoman said: "Before the judge made his comments in court today, the matter had been raised with Sussex Police and this is being looked into."
She said the force would release more information when it became available.
Forrest did not initially face sex offence charges for reasons linked to his extradition from France, but admitted them in court shortly before sentencing.
The maths teacher groomed the girl at his Eastbourne school, befriending her when she was just 14, the court heard.
The trial heard the pupil had just turned 15 when Forrest started a sexual relationship with her.
They had sex in his car, in hotels and at his marital home, the court heard.
Fearing they were about to be exposed, Forrest booked them on a cross-Channel ferry from Dover to Calais on 20 September last year.
They spent seven days on the run in France before they were tracked down in Bordeaux.
Forrest, who gave no evidence during the trial, was banned from working with children for life and ordered to sign the sex offenders register