M6 toll road could open 'for free'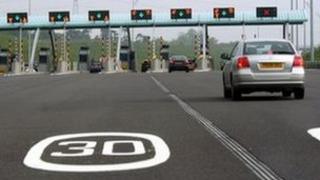 The operators of the M6 Toll have said they will open it for free when the main M6 motorway is closed, if they are released from a government contract.
Midland Expressway has asked ministers to scrap a deal for it to part-fund the building of a link road between the M6 Toll and the M54 motorways.
An initial proposal is thought to have been rejected by the government.
The company has debts of £1.03bn and would have to find £100m towards the cost of the link road.
Midland Expressway - a subsidiary of Australian company Macquarie Atlas Roads - said it would make the M6 Toll free to motorists if the M6 was closed for a bad accident or extreme weather conditions, but not for congestion.
'Top priority'
The Department for Transport (DfT) said it was unable to comment on the situation while negotiations were ongoing.
A spokesman for the DfT said: "Government has an agreement with Midland Expressway in respect to the M54 link road, which we fully expect to be honoured.
"We will review any proposal put forward but delivering the best value for taxpayers and road users will always be our top priority."
At its peak in 2006 more than 55,000 cars a day were using the M6 Toll.
From January to March this year, the daily average was about 34,000.
Midland Expressway is allowing lorries which are members of the Road Haulage Association to use the road for free throughout July.