Argyll and Sutherland Highlanders march in Canterbury for last time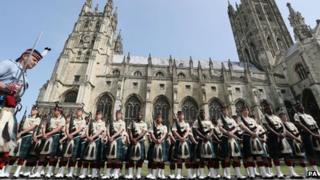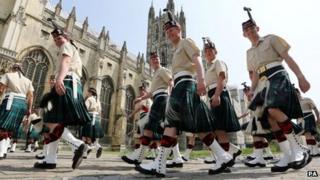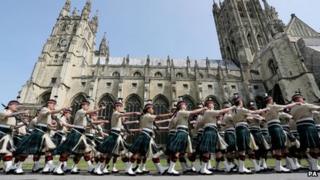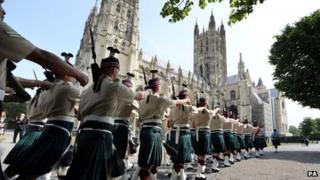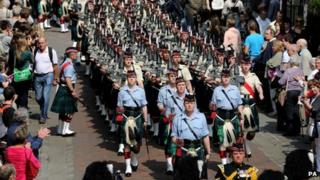 Hundreds of soldiers have marched through Canterbury for the last time before barracks in the city close.
The Argyll and Sutherland Highlanders, 5th Battalion the Royal Regiment of Scotland, have been based at Howe Barracks for 10 years.
"As part of the Army 2020 review cuts have been identified, but the battalion has dealt with it amicably with heads held high," said Major Lee Curson.
Canterbury MP Julian Brazier said the city would be sad to see them go.
A total of 400 kilted soldiers marched with bayonets fixed, swords drawn and colours flying to the sound of the battalion pipes and drums and accompanied by the regimental mascot, Shetland pony Cruachan IV.
The parade ended with a service in Canterbury Cathedral.
Maj Curson said the majority of the soldiers would be moving to other battalions within the regiment when 5 Scots was reduced to a single company carrying out public duties in Scotland.
A number will remain in Canterbury until May or June next year to close down the barracks.
Public support
The regiment, which has completed several tours of duty in Afghanistan since being based in Canterbury, was given the freedom of the city in 2008.
Maj Curson said the soldiers thrived on the support of the public who turned out to seem them march through towns and cities in the UK.
"The majority of the battalion come from Scotland so it is not so easy for them to get home at weekends," he said.
"The soldiers have taken to Canterbury very much as a second home and the city has been very good to the battalion.
"A lot of the soldiers have met girlfriends, got married and started families in this neck of the woods."
Conservative Mr Brazier said he had helped a number of soldiers who were looking for civilian jobs with a view to settling in the area.
"There used to be the jokes about them being 400 miles behind enemy lines - a Scottish regiment in almost the southern-most point of England," he said.
"But they have been a very important part of the local scene here and it will be very sad to lose them."