Teacher Jeremy Forrest's wife 'divorcing' him, says sister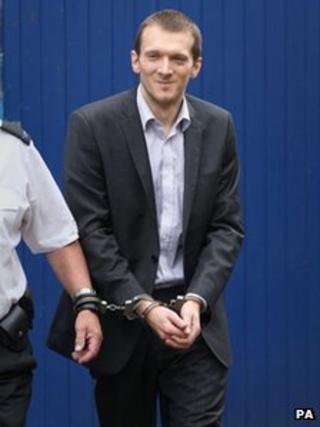 The wife of a teacher jailed for abducting and having sex with a 15-year-old pupil has begun divorce proceedings, his sister has said.
Carrie Hanspaul told ITV's Daybreak programme Jeremy Forrest and his wife Emily had a "very difficult relationship".
"Divorce proceedings are going through, which she initiated," she said.
Forrest, who taught at Bishop Bell C of E School in Eastbourne, was jailed for five and a half years on Friday.
During his trial, Judge Michael Lawson QC told Forrest he had ignored the cardinal rule of teaching.
Mrs Forrest, 32, told Lewes Crown Court the marriage had fallen apart in the months before her husband disappeared to France with the pupil on 20 September.
The couple met in 2007 and married in April 2011 but she said their relationship started to deteriorate nine months later.
Ms Hanspaul said: "None of us has spoken to her since they left for Bordeaux."
'Normal relationship'
She said her brother still loved the girl, now 16, who was in court on the day of the verdict.
Asked if her family would go to the wedding if the couple married, Ms Hanspaul said: "If they have managed to survive all of this, and he stays in there all that time, she will be 21, he will be 35.
"That then would become, if you like, a normal relationship, and we would support them. If that's what they chose to do."
Ms Hanspaul denied that her brother was a paedophile, as he was branded by the prosecution in his trial.
She said: "I think it's the wrong word. She is (was) 15, she's not 11.
"She's under-age, but the general definition of a paedophile is somebody who is interested in pre-pubescent girls, generally under the age of 11. So I think it's wrong that that's what he's being branded."
Forrest, 30, from Petts Wood, south London was convicted of child abduction and pleaded guilty to five charges of sexual activity with a child.
Sussex Police said after sentencing they were investigating whether he indirectly contacted the schoolgirl to get her to change her story.
The judge questioned the evidence given by the girl in court as it varied from her original police interviews, saying: "She had clearly received assistance in relation to what she should say."