Hillsborough documents found by West Midlands Police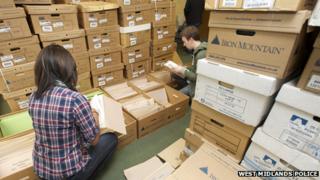 Documents relating to the Hillsborough stadium disaster have been found in storage at a police headquarters.
West Midlands Police, which investigated South Yorkshire officers' conduct after the 1989 deaths, said it had uncovered "two items of material".
The documents, which include witness statements, are now at the Independent Police Complaints Commission.
The West Midlands force said it had no reason to believe the documents were not given to previous inquiries.
It said the newly-found items may be copies of documents already seen by investigators.
New inquest
In September, an independent report said that at the time of the initial investigation West Midlands Police knew South Yorkshire officers had altered statements.
The report found that some of the 96 football supporters who died might have been saved and said police had changed witness statements and tried to blame Liverpool fans.
At the time, West Midlands Police said it would respond positively to any action arising from the findings.
The Independent Police Complaints Commission (IPCC) announced its own inquiry in September into who ordered police statements to be altered, who passed misleading information following the disaster to the media, MPs and other bodies and what role West Midlands Police played in the initial investigation.
A new inquest into the 96 deaths is to be held early next year.
The West Midlands force said it uncovered the items while carrying out "unrelated searches of secure storage areas" within its Lloyd House headquarters in Birmingham.
It said that as a result it would carry out a "rigorous, systematic" three-month search of all its archives, including the 17,000 documents at its official archive centre in Derbyshire.
'No stone unturned'
Deputy Chief Constable Dave Thompson said the West Midlands force had no reason to believe it held any more Hillsborough-related material, but wanted to be able to "assert this with the highest degree of confidence to the inquest coroner".
He added: "We will leave no stone left unturned - if any material relating to Hillsborough remains on West Midlands Police property we are confident the search will uncover it."
A spokesman for the IPCC said West Midlands Police previously believed all its documentation in relation to Hillsborough was stored in the South Yorkshire Police archive.
He said that as a result of the recent discovery of the two sets of documents, the IPCC had asked the West Midlands force to confirm it did not hold any further documents.
"West Midlands Police will now conduct a thorough search to determine whether there is any additional documentation in existence and, if found, this will be handed over to the IPCC.
"The IPCC will be monitoring the progress of these searches closely," he said.