Rape trial: Eddy Shah claims 'are blackmail'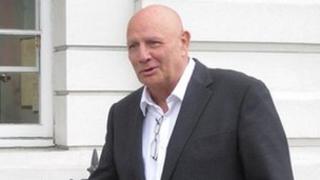 Former newspaper boss Eddy Shah has told a jury that allegations he raped a schoolgirl are "blackmail".
Mr Shah, 69, who founded the Today newspaper, denies six counts of raping a girl under 16 in the 1990s.
He told the Old Bailey: "They weren't true. I always thought it was a case of blackmail or something."
The businessman, from Chippenham, went on to say his biggest concern when the allegations came to light was having to admit to his wife he used a prostitute.
The trial previously heard that Mr Shah paid for sex with co-defendant Susan Davies, 53, who is accused of procuring the girl.
Mr Shah was questioned about the morning of his arrest, at his home in September 2011.
Defence barrister Jonathan Barnard asked whether he realised police had come to arrest him about the allegations dating back to the 1990s. Shah said he did not.
Break-up fears
The father of three told jurors that when officers arrived at his home his biggest concern was how his wife would react as he had to quickly tell her that he had used a prostitute.
When asked what he feared would happen, Mr Shah said: "We would break up. That I would lose her."
Mr Shah's wife, actress Jennifer White Shah, watched proceedings from the back of the courtroom.
Asked by Mr Barnard if he had sex with the girl, Shah said: "Absolutely not."
The trial continues.
The offences are alleged to have happened when the girl was between the ages of 12 and 15.