Devon and Cornwall Police face 'real threat' on funding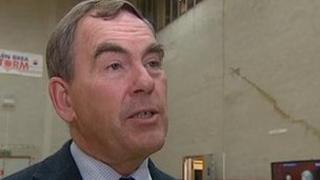 Police in Devon and Cornwall face a "real threat" from further funding cuts, the police and crime commissioner has warned regional MPs.
The force is aiming to cut £51m from its £285m budget by 2015.
But a joint letter from Tony Hogg and Chief Constable Shaun Sawyer, said neighbourhood policing levels were already "critical".
They are asking for MPs' support in challenging the Home Office ahead of future spending reviews.
High deprivation
The letter said the force was ahead of its savings plans, having saved more than £18m over the last three years, made 300 redundancies and closed a number of police stations.
The number of officers had fallen from 3,500 to 3,090, a number which it hoped to maintain thanks to "careful budgeting" and a rise in the police's part of the council tax this year.
However, it said funding failed to acknowledge the the rural nature of the area, the influx of some 8m visitors in the summer, relatively high deprivation levels, demands to police the G8 summit and the "increased complexity of policing".
It said: "Whilst such funding is under government review, we are most concerned that it will again be the large and urban forces who will dominate the debate, yet it is often those forces that are already in receipt of additional funding streams.
"We urgently need to harness your support at this time but realise we can only justify your support if we satisfy you regarding scrutiny over our levels of efficiency and effectiveness."