A14 toll road between Huntingdon and Cambridge gets government backing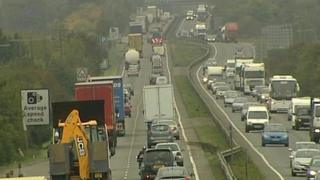 The A14 will be upgraded to include a new toll road after the government announced it would release money towards the £1.5bn project.
Treasury Secretary Danny Alexander said building work on a new link between Huntingdon and Cambridge would be brought forward two years to 2016.
He said the improvements were of "strategic national importance" and would bring growth to the area.
Huntingdon MP Jonathan Djanogly said drivers would welcome the news.
Councils and businesses in the East of England previously confirmed they would contribute £100m towards the project if it was approved.
The dual carriageway is a major freight route running from the port of Felixstowe in Suffolk to the M1 and M6 at Catthorpe, on the Northamptonshire-Leicestershire border.
Mr Alexander described the A14 as "one of most important and clogged up arteries in Great Britain."
'Devil in the detail'
BBC Look East's political correspondent Andrew Sinclair said the government would provide about £1bn of the cost, with £100m from local authorities and about £300-400m expected to be raised through the tolls.
Mr Djanogly said the Department for Transport would now move the project forward to the planning stage and the appointment of a developer.
He said the announcement was "excellent news" for his constituents and for the economic prospects of East of England.
"If traffic looks bad on the A14 now with it operating virtually at full capacity, this is nothing compared to the disastrous gridlock we shall have when the economy picks up again," he said.
"That is why we must go ahead and improve this road now and why I have been campaigning for so long on this issue."
Stephen Blackmore from hauliers Turners of Soham, said it was "very good news, but the caveat to that is the devil in the detail - what are the charges going to be?
"Which stretch of the road is going to be tolled? Until we have that detail, as a business we really don't know what the full implications are going to be."