East of England Ambulance Service: Non-executive directors quit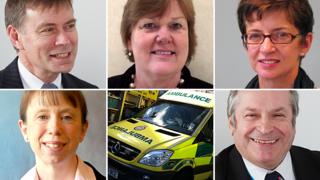 The remaining three non-executive directors of an under-fire ambulance trust have resigned from their posts.
Paul Remington, Anne Osborn and Phil Barlow have stepped down from the East of England Ambulance Trust (EEAT).
A number of MPs have criticised the service's management following a damaging report about its performance.
The other two non-execs Caroline Bailes and Margaret Stockham resigned on Wednesday and Thursday respectively.
The five said they had resigned with immediate effect "in the best interests of patients".
They added they did not want "the issues of their roles to sidetrack the trust from having an unrelenting focus on patients, the care they're given, and the service they receive".
'Scandal and incompetence'
On Thursday, Margaret Stockham said one of the reasons she had stepped down was because the focus on the board as individuals had become "unrelenting".
The service, which covers Bedfordshire, Cambridgeshire, Essex, Hertfordshire, Norfolk and Suffolk, was criticised for almost two years over its poor response times, particularly in rural areas, before it was reviewed.
Dr Geoff Harris, new chair of the trust, said of the resignations: "This is a line in the sand for the trust, and I thank the non-executive directors for their collective action.
"We must maintain our focus on continuing to drive up the service for patients whilst I focus on putting a new board in place."
The EEAT said it would be putting in place some interim support so the board could continue to operate. Two of the posts had already been advertised.
Dr Harris said: "Turning round the organisation will take time and we need to deliver further and sustained improvements to make this a high-performing ambulance trust."
The trust came in for scathing criticism in a recent parliamentary debate, with Priti Patel, Conservative MP for Witham, stating: "Scandal and incompetence has put lives at risk."
The trust board is normally made up of 11 voting members - five non-executive directors, the non-executive chair of the trust and five executive directors.