How do you start a music festival?
By Chris Ellis
BBC News Online, South West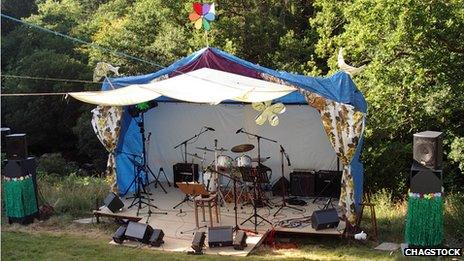 In the past decade there has been an "explosive increase" in the number of festivals held across the UK, according to industry promoters, but how do you start a festival?
In 2004, there were about 100 events classed as music festivals compared to more than 700 in 2013, said Steve Jenner from the UK Festival Awards.
There has also been a rise in the last decade in the number of smaller festivals "ranging from something in someone's farm to your bigger event", according to Chris Swindells, from Virtualfestival.com.
Festival organiser Si Ford started Chagstock, in Devon, in 2003 as a private event with up to 60 people attending.
In 2007, he held the first public festival with about 600 people.
He said: "I hung up the suit and the business work. It took over my life... it's a lifestyle and extremely hard work.
"It's a personal sacrifice but if you believe in it you can get there."
Mr Ford said at the beginning it was a "hugely steep learning curve" with "not being established or having a reputation" and having to persuade people to attend and getting bigger acts to play.
The event now attracts more than 5,000 people.
Mr Jenner said there had been an "explosive increase" in the number of festivals held across the UK in the last decade.
He said: "Back in 2003 just as now, only events backed by very large corporations are able to stage a major festival in year one.
"This accounts for an extreme minority of events in the market.
"The rest have to grow organically from smaller seeds such as Bestival, which started with 5,000 people in 2004 and now has over 50,000."
In 2010, OsFest in Shropshire was launched with 5,000 people attending.
Carly Jackson, from the event, said setting up the festival was "not an easy task, you've got to please so many people and give assurance that it will be a safe community event to get the licence".
Trying to get acts in the first year was "so, so hard" but "we did have the up and coming X Factor types", she said.
In 2013, the festival started to attract more people from outside of the county and had acts including JLS and The Enemy.
Ms Jackson said over the next decade they did not want to exceed 10,000 people and it was important for them to grow their festival brand.
But some festivals have not been so successful and have had to cancel such as Hop Farm Music Festival, in Kent.
In May, a spokesperson cited poor ticket sales as the reason for the event being called off.
They added: "It is a surprise for us that after eight weeks of heavy marketing and with such a great bill that we have to cancel, though we are convinced this does not reflect on the artists, it highlights the poor economic climate."
It was due to be headlined by My Bloody Valentine and Rodriguez.
Other events have been postponed such as Red Rooster in Suffolk.
On the official website it said: "We feel we need to relook at the formula for the event and ensure that we can present the best show possible, which this year for many reasons, we felt was not possible."
Mr Swindells said: "Festivals are dictated by demand and there's a finite demand with the recession and less money in people's pockets.
"All start-up businesses are struggling and failure rates are high because of financing and I imagine banks aren't lending.
"There can't be a year on year increase in the number of festivals," Mr Swindells added.
Mark Bale, from Watchet Music Festival, in Somerset, said his budget was £120,000 and for the last two years he had not made any profit.
"I love the challenge of putting it on, it's like a big jigsaw," he said.
"Each year we've grown our event, but we've controlled the growth."
In 2006, between 1,500-2,000 people attended Watchet Music Festival compared to about 3,000 each day in 2012.
Mr Jenner said despite a drop in new festivals starting a few years ago, it was "now reversing".
"As the market continues to mature, the perceived levels of risk in starting and running one, has recently began to dramatically fall.
"The combination of skills, expertise and digital communications technology in the marketplace have allowed it to evolve from a black art based on intuitive guesswork - picking the right venue, acts, facilities and ticket price - to a science with reliable metrics, analytics and intelligence.
"Underlining this, the festivals coming to market now are doing so as business ventures with capital investment secured against a three to five-year business forecast backed-up by assumptions reliable and secure enough to satisfy financial institutions."
But aside from the business savvy, it is a passion for live music events which continues to draw many to the industry.
Mr Bale said: "You go through every emotion during festival weekend and have that moment of euphoria on the last night... you have to be disturbed to put on an event like this."
Related Internet Links
The BBC is not responsible for the content of external sites.