West Yorkshire Police 'irrational' over Hull travel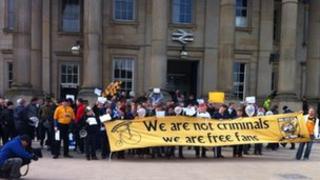 West Yorkshire Police was warned it could be acting "irrationally" by imposing travel restrictions for a Huddersfield Town v Hull City game.
Police limited tickets for Hull fans and made them travel on official coaches to the match in March.
Emails seen by the BBC show the force's legal team advised it would be found to be irrational, as similar restrictions were not imposed for a different game.
The force said it acknowledged "there were some issues".
At the time, police claimed that starting the Huddersfield v Hull game at 17:20 GMT, to enable live TV coverage, raised the risk of alcohol-related disorder and additional measures were put in place.
'No evidence of disorder'
But Hull fans were angry, with some boycotting the game and others holding a protest in Huddersfield ahead of the kick-off on the day of the match.
In an internal police email, the force's legal department stated: "There is a risk that a court would find that we have acted irrationally in agreeing to the Leeds v Derby game with no restrictions (when Leeds have a far worse record for disorder than either Huddersfield or Hull and when there is evidence of recent disorder between Leeds and Derby fans)..."
In a statement, West Yorkshire Assistant Chief Constable Craig Guildford said: "Public safety and the provision of a safe environment for everyone including fans, officers and people who live and work near grounds is always our priority.
"We acknowledge there were some issues around that particular match, but are always working to see how we can improve communication, travel and policing arrangements."
Hull City said its club officials would meet on Monday to discuss a response.