Comedian Linda Smith's archive goes to Kent University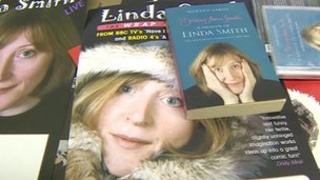 The archive of stand-up comedian Linda Smith, who died from ovarian cancer seven years ago, has been donated to the University of Kent.
Ms Smith, who was voted Wittiest Person by BBC Radio 4 listeners in 2002, kept all her scripts, notes and audio recordings of her live gigs.
Her partner Warren Lakin said Ms Smith, born in Erith, south London, was a "woman of Kent" at heart.
"It feels to me like Linda has come home - this is her resting place."
Ms Smith studied English and Drama at Sheffield University and met Mr Lakin when she joined a professional touring theatre company in 1983.
Throughout the 1990s, she was a regular at the Edinburgh Festival Fringe and appeared on numerous Radio 4 comedy shows.
She also appeared on TV on shows including Have I Got News For You, Room 101 and QI.
'Timeless material'
Mr Lakin said Ms Smith, who died at 48, did not have a separate performance personality.
"She was very much the Linda Smith you met on the street, in people's houses and in the pub," he said.
"She was always very interested in other people. Really, I remember her for her priceless, kind of timeless, material - wonderful stuff, great observations of life."
It is believed the material will be the first university archive of British stand-up comedy.
The couple's friend, Dr Olly Double, is head of drama at the University of Kent and teaches a module on stand-up.
He said Ms Smith's archive was still "all in boxes".
"To have an archive of a comedian's work, where they have got their own private recordings to listen back over to see what worked and what didn't, is fascinating," he said.
"To have somebody's work, with their ideas for routines on post-it notes and in diaries and just scribbled on pieces of paper on the back of an envelope, is absolutely amazing."