Gloucestershire Naturalists' Society future in doubt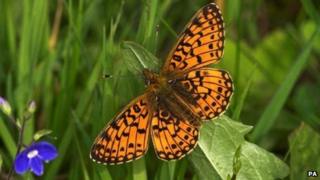 The organisation that records wildlife for the county of Gloucestershire has warned its future could be in doubt because it has too few young members.
Gloucestershire Naturalists' Society says most of its members are over 50, and not enough young people are joining the group.
The group records flora and fauna to measure the health of the environment.
A spokesman said the information will not be recorded in future unless a new generation of experts is found.
Andrew Blewitt who runs the society said: "It's a bit disappointing. Younger children are very interested in nature.
"The question is will they retain that interest as they grow older, as they start to discover their entertainment through screens and as they start to discover the opposite sex?
"Most of our real experts are well over 50 years of age. Ultimately in the future we need to replace those experts with what are now children and teenagers."
The society, which currently has about 550 members, publishes regular records of animals, birds and plants in the county.
"Over the long term measuring how the environment is changing gives us an idea of how our health and wellbeing can be affected," Mr Blewitt added.
"In the long term we simply will not be recording that information [unless the society attracts younger members]."