Huddersfield Town and Hull City restrictions to be reviewed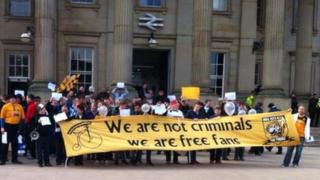 A "rigorous review" will be carried out into West Yorkshire Police's decision to impose travel restrictions for a Huddersfield Town v Hull City game.
Police limited tickets for Hull fans and made them travel on official coaches to the match in March.
Internal emails showed the force was warned it could be acting irrationally.
West Yorkshire's police and crime commissioner, Mark Burns-Williamson, said the new chief constable would investigate the decision.
At the time, police claimed that starting the Huddersfield v Hull game at 17:20 GMT, to enable live TV coverage, raised the risk of alcohol-related disorder and additional measures were put in place.
Emails seen by the BBC show the force's legal team advised it would be found to be irrational, as similar restrictions were not imposed for a different game.
'Over the top'
Mr Burns-Williamson said the emails "now cast doubt" on the decisions.
"With that in mind I have asked Chief Constable Mark Gilmore, who was not in post at the time, to conduct a rigorous review of the policing arrangements put in place for the fixture and to address the concerns raised," he added.
"If this review finds the force failed to adequately consider the implications of decisions made at the time, I will seek reassurance from the chief constable that appropriate action to put matters right are taken, and ensure that lessons are learnt for the future."
But Hull East MP Karl Turner said the review should be carried out by a different force.
"I always said at the time that I thought it was an over-the-top reaction," he said.
"But I want to be clear that another force has looked at this, reviewed it and come to a decision as to whether mistakes were made and what we can do in the future to make sure it doesn't happen again."
Hull City said its club officials were meeting to discuss a response. West Yorkshire Police said it did not want to comment.