Dorset and Somerset Air Ambulance buys training dummies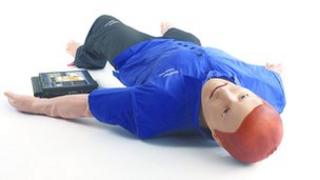 Three life-like dummies have been bought by Dorset and Somerset Air Ambulance to train its paramedics.
The mannequins cost a total of £40,000 and can be used in the classroom and for outdoor lessons.
Consultant Farhad Islam said: "By having a mannequin that can breathe and talk and has body bits that function like a human we can make it as real as possible."
Two dummies are based on adult males and the third is a four-week-old baby.
Crisis practice
Their functions include a variety of eye movements, such as pupil dilation, breathing and abnormal breathing sounds and vascular access.
SimMan, which also has a patient monitor, will be used to teach the core skills of airway, breathing, cardiac and circulation management.
"It's particularly good for simulating opening someone's chest if they're trying to relieve pressure," said Mr Islam.
"This dummy has a pair of lungs which are breathing inside - commonly when our paramedics go to a car accident, a patient may have trauma to the chest that causes a build up of pressure of air outside the chest.
"To deal with that we have to decompress the chest - we might pop a needle into the chest which is a life-saving procedure or do a small surgical operation.
"Of course we can't do that on real people - with this model we can simulate that and can practice that in a high-pressure scenario."
The second - called Crash Kelly - is a more robust dummy which can be placed in tricky situations such as being trapped under a car. His head and body can be moved about for this purpose.
Newborn Anne measures 21 in (53cm) and weighs 7 lb (3kg) and has been designed to focus on how to resuscitate a baby.
The charity said the dummies were responsive specialist simulators, which has been reflected in the cost.