South West renewable energy output 'grows 50%'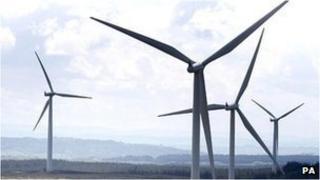 Renewable energy production in the South West has grown by 50% in the last year, a report has said.
The region is generating more than one gigawatt (GW) a year, about 7% of the region's needs, according to energy experts Regen South West (RSW).
The figures come after a Devon MP warned about the "industrialisation" of the countryside from solar farms.
RSW has forecasted more solar farms to be built on brown field sites in the future rather than agricultural land.
Safeguards call
Devon has a total renewable energy capacity of 301 megawatts (MW) and Cornwall and the Isles of Scilly has a total renewable energy capacity of 293 MW says the report.
Totnes MP Dr Sarah Wollaston said on her website: "I have been saddened by the industrialisation of our countryside by solar farms.
"Where projects are supported by and of benefit to the community they affect, I am more than happy to support them but I do think we need the same safeguards for communities with regard to solar arrays that are being introduced for onshore wind."
Merlin Hyman, chief executive of RSW, said: "It's important that people think hard about where we locate renewables, the visual impact.
"So I think location is very important and in time I think we will see more use of commercial roof space and brown field sites for the future growth of solar."