A14 toll road would 'uniquely affect' Suffolk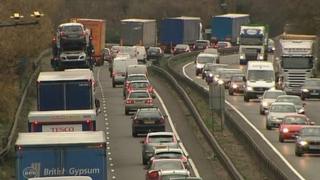 A toll proposed for the A14 would "uniquely affect" businesses and tourism in Suffolk, a council has claimed.
Graham Newman, Suffolk's cabinet member for roads and transport, said the proposed £1.5bn upgrade for the route would impact trade links.
John Bridge, of Cambridgeshire Chambers of Commerce, said many "unanswered questions" remained about the plan.
The Department for Transport said the upgrade was "strategically important".
The Treasury confirmed last week that it would release money to improve the road linking Felixstowe to the M1 and M6.
The government's decision to proceed with the project is dependent on a £100m contribution from local authorities.
'Crucially important'
Suffolk's £1m investment into the A14 project is up for consideration at the next meeting of county council's cabinet on 9 July.
Mr Newman, a Suffolk county councillor, said: "The improvement needs to be weighed against the potential impact upon Suffolk's trade links.
"Tolling of this road will uniquely affect every business and tourism interest in Suffolk - particularly our ports and logistics enterprises - in a way that affects no other authority.
"It is crucially important that cabinet fully considers what the implications will be of tolling on the A14 on the Suffolk economy when deciding whether to make its local contribution."
Mr Bridge, chief executive of the chambers of commerce, said: "We need to have a reality check.
"There are still many unanswered questions about this scheme and very little detail."
The chambers of commerce are seeking details about the proposed toll and the full practical details of its implementation.
They also want to know the proposed route, information on the timing and implementation of the compulsory land purchase orders and a detailed timetable of the public consultation required.
A Department for Transport spokesman said: "The A14 is a vitally important strategic road for the east of England.
"This is why we announced plans to bring a £1.5bn upgrade between Huntingdon and Cambridge forward by nearly two years, meaning that subject to statutory processes, work will start in 2016.
"The Highways Agency is working with partners and plans to consult as part of preparations leading to an application for planning consent next year.
"Further details about the timetable for the scheme will be released in due course."