Derek Slade: Ex-pupil launches High Court damages claim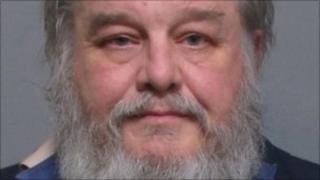 A former boarding school pupil who says he was repeatedly beaten, molested and humiliated by his headmaster has begun a High Court fight for £50,000 damages.
The man from Kettering, Northants, attended St George's School, Wicklewood, Norfolk run by Derek Slade.
In 2010 Slade, then 61, was jailed at Ipswich Crown Court after he was convicted of offences against 12 boys aged between eight and 13.
A defence to the man's claim against Slade was not available from the court.
The contents of the writ, issued by a man who was not one of the victims revealed at the trial, have yet to be tested in evidence before a judge.
'Regime of fear'
He is suing the company that owned the independent school, which was based in Wicklewood and later in Great Finborough in Suffolk, for damages for what his lawyers said was his destroyed childhood.
According to the writ, the man was subjected to a "regime of fear, secrecy and institutionalised violence" throughout his time at the school.
It said he was regularly beaten with a hand, a slipper, the cut-down sole of a training shoe, a bat, a cane and a leather strap, the document claims.
The man said his life has been wrecked by the abuse.
He said he has suffered intense confusion about his sexuality, poor academic achievement, depression and suicidal thoughts, feelings of anger and problems with his personal relationships.