West Midlands to get 300 more buses in £81m investment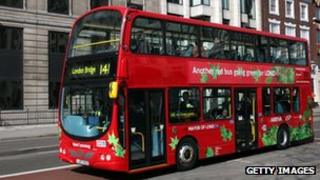 Hundreds of buses, bus stops and smartcards are part of plans worth £81m to improve public transport in the West Midlands.
The two-year agreement between Centro and National Express West Midlands, includes a bus station at Merry Hill and a revamp of Dudley bus station.
The plans include "talking buses", which use audio-visual equipment to let passengers know of their next stop.
Passenger Focus has welcomed the announcement.
Anthony Amith, chief executive of the independent watchdog, said: "Passengers tell us they want accurate, up-to-date information about their bus so the announcement of more real-time displays is a positive step.
New routes
"Only half of passengers are satisfied with value for money, meaning that new vehicles and easier ways to pay for the daily journey will be good news."
The Swift smartcards being introduced this summer will be used to phase out paper tickets.
They will be able to store all ticket deals on Centro and National Express West Midlands bus journeys.
Jack Kelly from the firm said: "It's about making it easier for existing customers and making bus travel more attractive option for other people."
Mr Kelly said Centro planned to roll out the card to other public transport operators in the future.
The deal between the two firms includes 300 new buses, including 15 environmentally-friendly hybrid vehicles, more on-bus cleaners and 350 new bus shelters, some of which will be in Wolverhampton and Coventry city centres.
A National Express spokesperson said 25 of the 300 buses would be brought in by the end of the year and all 350 bus stops would all be built over the next two years.
He added 10 new routes would be introduced across the West Midlands but the details have not been finalised.
A number of jobs will be created by the plans, which form part of an announcement to fill 1,700 posts over the next three years made by National Express West Midlands in April 2012.
Dean Finch, chief executive of National Express, said he hoped it would encourage more people "to save money, time and stress by leaving the car at home and using the bus".