Nat Lofthouse statue gets Bolton Wanderers' approval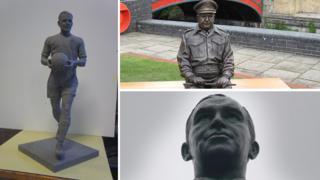 Bolton Wanderers have granted approval for a Suffolk sculptor's design for a statue of club legend Nat Lofthouse.
Ipswich Town fan Sean Hedges-Quinn, 45, was commissioned after he sent Bolton his CV which included statues of former Ipswich managers Sir Alf Ramsey and Sir Bobby Robson.
The Lofthouse statue will be 9ft (2.7m) tall, made of bronze and stand outside Bolton's Reebok Stadium.
Bolton plan to unveil it on the August bank holiday weekend.
Lofthouse (1925-2011) played over 500 games for Bolton and won 33 caps for England.
'No-nonsense'
Mr Hedges-Quinn, who has a studio at Great Bricett near Stowmarket, said: "It went to a public vote in Bolton from a series of iconic images of Nat and the one chosen was of him walking out with a ball at Burnden Park, which I then did my interpretation of.
"He was a no-nonsense, typical, brave centre forward and that was what I needed to try and capture.
"When I did Sir Alf, it was my first statue and I was wet behind the ears and with Sir Bobby he was still alive, so I had the man himself to please, but [with Nat Lofthouse] I've got thousands of Bolton fans who remember him so there's still pressure to make it right and I'm very happy with it."
The sculptor created an 18in (45cm) maquette first and then spent four months making a full-size version using 990lbs (450kg) of clay.
The mould is being sent to a bronze foundry in London on Monday and it is expected it will take about six weeks to cast it.
Phil Mason, Bolton's club chaplain who commissioned the statue, said: "Sean has been involved in some incredible pieces of work and we were very impressed with all he had previously done.
"He showed a real passion for the job and has researched and lived and breathed all that is 'Nat' for the past 18 months.
"We have seen the finished statue in clay and we are delighted with Sean's work and feel he has really captured an amazing likeness."
The club has built a plinth outside the ground surrounded by relief images of Nat Lofthouse.
Mr Hedges-Quinn said the cost of the statue was about £50,000.
He also created statues of Bob Stokoe for Sunderland, Ted Bates for Southampton and one of Captain Mainwaring from Dad's Army, which is in Thetford, Norfolk.