Internet rhino star Zuri gives birth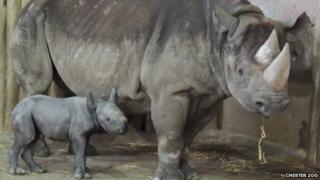 A black rhino who became an internet "star" when her birth was recorded by webcams has become a mother herself.
Zuri, who weighed about 40kg (88lbs) when she was born in March 2007, was the first rhino calf born at Paignton Zoo.
She was transferred to Chester Zoo as a four-year-old in 2011.
Chester Zoo said the as-yet unnamed male calf, who was born on Saturday, and his mother were both doing well.
"For a first-time mother, Zuri seems very relaxed and chilled," zoo spokesman Will Conliffe told BBC News.
"Her keepers are really pleased at how she's taken to motherhood."
In the weeks before Zuri's birth, zoo staff and volunteers mounted night-time vigils to operate cameras for the internet and BBC South West's Inside Out programme, so people around the world could see what was happening.
There are thought to be less than 650 Eastern black rhinos remaining in Africa.
Illegal poaching has been blamed for placing the species "perilously close to extinction" Mr Conliffe said, so the birth of Zuri's son was another step towards sustaining a black rhino population.
The calf will be given an African name, Chester Zoo said.