Wey & Arun Canal-blocking causeway removal planned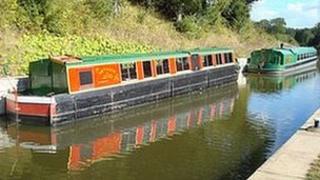 Work to look at how to remove a causeway blocking a canal in Surrey and replace it with a bridge has begun.
The Wey & Arun Canal Trust is working to restore the 23-mile (37km) canal, which was built in the 19th Century to link rivers in Surrey and West Sussex.
The causeway was built in 1942 during the construction of Dunsfold Aerodrome.
Airfield operator Dunsfold Park is working with the trust and Waverley and Surrey councils to look at how to carry out the work.
'Minimal disruption'
A spokeswoman for Dunsfold Park said records indicated there was once a bridge over the canal called the Compasses Bridge, where the concrete causeway now stands near the Three Compasses Inn.
She said the canal trust wanted to build the new bridge alongside the causeway, and the bridge would then become the new road ensuring minimal traffic disruption.
The work would open up a further 1.2 mile (2km) stretch of the canal and make further extensions possible in the longer term, she added.
She said if the trust was successful with fundraising, design work and seeking planning permission, the bridge could be complete and the causeway could be demolished by 2016.
Restoration of the canal has been under way since the 1970s.
The canal was built between 1813 and 1816 to link the Rivers Wey and Arun, and runs through Shalford, Bramley, Cranleigh and Dunsfold in Surrey, and Loxwood, Wisborough Green and Billingshurst in West Sussex.
It closed in 1871 because of competition from the railways.