Kieran Crump Raiswell's killer 'laughed after stabbing'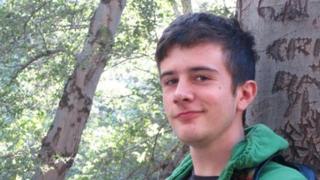 A teenage gap year student was stabbed to death in the street by a "sniggering" stranger, a court heard.
Kieran Crump Raiswell, 18, from Chorlton, Manchester, was stabbed four times "without warning" as he walked in Whalley Range, on 16 January.
Imran Akhtar Hussain, 27, of Bracknell, Berkshire, denies murder but admits manslaughter on the grounds of diminished responsibility.
He blamed voices in his head for the killing, Manchester Crown Court heard.
'Intending to kill'
Mr Wright told the court Mr Hussain, a mature engineering student, drove around Whalley Range and Chorlton in the early afternoon for about an hour, "looking for a suitable victim".
Hussain was said to have driven past his victim five times before he got out on Upper Chorlton Road and stabbed him, said Mr Wright.
The attack, which happened shortly after 14:00 BST, was witnessed by a number of motorists and passers-by, he said.
Mr Wright said Mr Crump Raiswell, a gap year student, had left his home to walk into Manchester on the day of his death.
He had packed his passport and CV into his rucksack as he planned to try to get a job.
Wearing headphones, his journey took him along Upper Chorlton Road near to the junction with Stamford Street, where he was attacked.
He said: "Kieran crossed the road and then entirely without warning he approached him and he stabbed him to the front and back of his chest four times before running off.
"As he ran off the man was seen to be smiling - sniggering is the description given by witnesses - and he appeared to be laughing.
"Kieran collapsed to the ground. He was fatally wounded."
He was pronounced dead soon after arriving at Royal Manchester Infirmary.
'Threatening voices'
Twelve days earlier, Mr Hussain drove from his flat in Coventry and assaulted another man, Paul Kershaw, 38, who was also a stranger, in Nottingham, jurors were told.
Peter Wright QC, prosecuting, said Mr Hussain, "fortified by the apparent ease at which a stranger could be attacked", then travelled to Manchester "armed with a knife intending to kill someone".
Mr Wright said the defendant initially denied involvement in either of the incidents when he was arrested days later.
The prosecutor told the court Mr Hussain had previously denied being in Nottingham or Manchester on the relevant dates and provided an alibi to police in each case.
But he "changed his tune" when the evidence against him began to unravel, said Mr Wright.
When arrested on January 20, Mr Wright said Hussain told police: "I haven't done anything."
A search of his flat revealed a knife with a 3in (7.5cm) blade hidden underneath a desk drawer.
A further search of his car uncovered a top matching that worn by Mr Crump-Raiswell's assailant.
Hussain, of Tilehurst Lane, went on to claim he had been hearing "threatening and abusive voices" and that he travelled to the two cities to confront them.
The prosecutor said his medical defence was "contrived by him as a last resort that only arose once he realised it could be proved he was the culprit".
At the time of his death, Mr Crump Raiswell lived with his parents Roland and Christine and his younger siblings in the Chorlton area.
He had obtained a place at Sheffield Hallam University to read history and was due to commence his degree course in September this year.
The trial continues.