Ben Henshaw lake death: Driver Max Parker jailed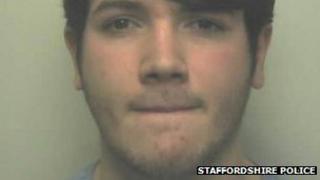 A man has been jailed for causing a teenager's death by dangerous driving after a car went into a lake.
Ben Henshaw, 16, from Alveley, Shropshire, died after the car he was travelling in went into the Great Pool in Burnhill Green, Staffordshire.
Max Parker, 19, of Greenway Avenue, Alveley, pleaded guilty to the charge at Stafford Crown Court last month.
Parker was sentenced to 30 months at a young offender institution and banned from driving for five years.
He will have to take an extended test when the ban expires.
'Un-roadworthy car'
The 19-year-old was driving his silver Peugeot 206 when it went through a hedge and entered the lake in the early hours of 6 August.
Ben's body was recovered from the Great Pool later that day.
Sgt Ian Revans, of Staffordshire Police, said: "Max Parker has been sent to prison as a result of his failure to maintain his vehicle in a roadworthy condition and his recklessness in continuing to drive the vehicle, in such a dangerous condition, despite being fully aware of the defects for a number of months prior to the collision.
"Today's sentence should serve as a stark warning to all motorists who use Staffordshire's roads that vehicles must be maintained in a roadworthy condition.
"Failure to do so could have grave consequences and will be dealt with by the courts."