Fifty-two new names added to Armed Forces Memorial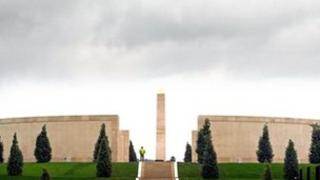 The annual event to dedicate the names of servicemen and women killed on duty last year has taken place at the National Memorial Arboretum.
Fifty-two new names have been carved into the Armed Forces Memorial.
The structure at Alrewas in Staffordshire is the UK's tribute to the 16,000 men and women killed on duty or by acts of terrorism since 1948.
A service, led by Bishop John Kirkham, was held for the families of those killed. All 52 names were read out.
Murdered soldier Lee Rigby's name is to be included on the memorial next year. He was killed in Woolwich, London in May.
Armed Forces Memorial trustees said Fusilier Rigby's name would be engraved alongside others killed in 2013.
The memorial was dedicated in the presence of HM The Queen in 2007.