Smethwick fire: Concerns raised over available fire appliances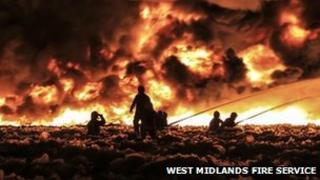 Concerns have been raised after West Midlands Fire Service was left with a single appliance to carry out other duties while it tackled a big blaze.
At its height 200 firefighters tackled Sunday's fire in Smethwick, thought to have been caused by a Chinese lantern, and involved 100,000 tonnes of plastic.
Neighbouring services provided "mutual assistance" of 14 engines to help with other calls, the fire service said.
The region's fire authority says more budget cuts would stretch resources.
'Very lucky'
Dave Janes, from the fire service, said: "We had four from Hereford and Worcester, seven from Staffordshire and three from Warwickshire so regional partners supported us in this and this is part of mutual assistance.
"[We] actually dealt with 29 other incidents... so we were dealing with the ordinary calls as well."
But the chair of the West Midlands Fire and Rescue Authority, councillor John Edwards, said it was "hugely worrying" the fire at the Jayplas recycling depot in Smethwick had left them depleted.
Mr Edwards said: "Communities were very lucky we didn't get a further small spate of incidents at that time.
"We would have been exposed.
"This was unique because of its size but these [types of fire] happen regularly.
"The drain on our resources that's taking place because of government reductions in funding is huge."
Earlier this year the fire service said it was facing a £20m reduction in government funding by 2014 but is in the process of recruiting 50 firefighters.
The fire minister, Brandon Lewis, said neighbouring services usually support each other in these types of incidents.
The MP said: "There is a requirement on all fire authorities to do mutual aid so there may have only been one West Midlands fire engine but actually in an emergency like that they have support from all of the surrounding fire services."
Some five firefighters remain at the scene of the blaze on Dartmouth Road while diggers continue to clear the debris.