Cricketer from Australia out first ball after 10,000-mile trip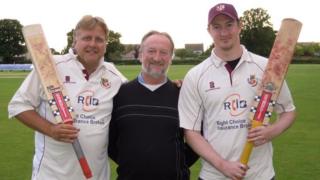 A cricketer who flew 10,000 miles to play in a special match marking a friend's 50th birthday was bowled out on the very first ball.
Australian Nathan Anthes, 25, played for Hadleigh and Thundersley Cricket Club in Essex in 2007 and 2008.
He is currently in the UK with his father Les to see old friends and to watch the Ashes series between England and Australia.
And he agreed to play in the match marking Jonathan Wagstaff's birthday.
Mr Anthes, a part time cricketer in Lithgow, New South Wales, said he was a bit "rusty".
'Great day'
"I went out there and got a tossed up ball and I tried to hit it out of the park and I missed it," he said.
"It was a long way for nothing. I was hoping to show what I could do."
Mr Wagstaff said: "I lent him my bat. I think he would have been even more disappointed if he had brought his own bat and pads all the way from Australia.
"Despite being bowled out, he still had a great day."
He said being bowled for a golden duck had made Mr Anthes' journey a memorable one.
Mr Anthes' father Les, who was also asked to play in the match but declined, said: "Luckily he came over for fun and he totally enjoyed it."