James Wharton: The MP behind the EU referendum bill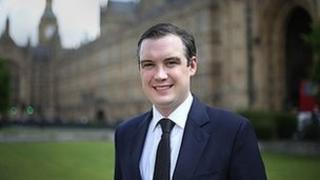 He could be the man who starts the UK's exit from the European Union, but few nationally would have heard of James Wharton before May this year.
That was transformed when he came top of the ballot for private members' bills and announced he would be bringing forward legislation to pave the way for a referendum on our EU membership.
But who exactly is the Stockton South MP?
I first met James Wharton in 2007 on the High Street in Yarm. He'd been selected early by the Conservatives to try and win the seat from Labour incumbent Dari Taylor.
What I encountered was a very young man - at the time he was 23 - and in fact he looked even younger than that. I wouldn't have been surprised if he'd been from the local sixth form.
I confess - and this is my prejudice - that at the time I found it hard to believe he was the man to win the seat.
But it did become quite clear fairly soon that the boyish appearance hid a sharp political brain.
He might have looked younger than his age, but the solicitor and former Officer Training Corps cadet sounded older.
And he fought an assiduous and skilled campaign to win in Stockton South, and become the youngest Conservative MP in Parliament.
It was not an inconsiderable achievement. He had become one of just two North East Conservative MPs in a region dominated by Labour.
He also did it by being unapologetically Conservative.
And over the last three years he has never shied away from defending coalition policy on everything from welfare changes to the stewardship of the economy.
He has been a vocal backer of plans for a free school in his constituency, despite it causing some controversy.
And he's also an admirer of Margaret Thatcher.
While some North East Conservatives decided to keep their tributes low key when she died, he was more than keen to trumpet what he saw as her positive impact on the region.
At times, he can almost appear like "the only Tory in the village". But, as he can rightly point out, he is actually articulating the views of the 25% or so of the North East's electorate that do vote Conservative.
But he has a problem.
His majority is a wafer-thin 332, and Labour would privately say that he struck lucky in 2010.
The closure of the steelworks in nearby Redcar led to an anti-Labour backlash in Teesside at the last election with significant swings against the party in all the local seats.
That resulted in the Lib Dems winning in Redcar, but it may also have helped James Wharton get over the finishing line in Stockton South.
Labour are confident they can end Mr Wharton's time as Stockton South MP in 2015.
Some have suggested privately to me that James Wharton's sponsorship of an EU referendum bill may well be closely connected with his career ambitions beyond 2015.
And perhaps you can understand why.
If the worst happened, and James Wharton lost Stockton South, the Conservative hierarchy may be more willing to help him rebuild his career now he's become the MP who'll deliver that bill.
In addition, his name will now be familiar to Conservative associations throughout the UK, whose members by and large may be very sympathetic to a prominent Eurosceptic when it comes to selection meetings.
But even if any of that is true, there's no question that James Wharton does believe in the principle of what he's doing.
He is a Eurosceptic, and although he doesn't necessarily want to see the UK leave the EU, he does want Britain's relationship with Europe to change.
And he says his postbag in his constituency has helped convince him that it's what many Teesside voters want too.
It's one of the reasons he's convinced that his brand of Conservatism will appeal to Stockton South's voters again in 2015.
By then it's possible he may have become one of the few MPs to have ever seen their private members' bill become law.
Labour will hope that will be one of his final acts as Stockton South's MP.
But what I've learned about James Wharton in the last six years is that he's a politician you underestimate at your peril.