Burglars who targeted elderly across England are jailed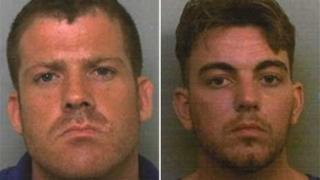 Two men who burgled homes across England in front of their elderly victims have been sent to prison.
Michael McDonagh, 32, and Patrick Connors, 20, both pleaded guilty to conspiracy to burgle between mid September 2012 and late January 2013.
At Bristol Crown Court, McDonagh was sentenced to seven years prison and Connors to five years.
Connors also pleaded guilty to money laundering.
They were caught after an investigation by Avon and Somerset's Serious Crime Group who will seek to return the stolen money to the victims.
'Afraid to go out'
Seventeen burglaries were in the Avon and Somerset force area and there were other burglaries in Devon and Cornwall, Thames Valley, Warwickshire and Dorset.
Homes in Bristol, Bath, Bruton, Glastonbury, Keynsham, Little Stoke, Winterbourne, Clevedon, Street, Gurney Slade and Shepton Mallet were targeted.
The pair also travelled to Hereford, Grimsby, Cleethorpes, Shalbourne near Hungerford, Bodmin, Newquay, Polperro, Abbotsbury, Dorchester, Halford near Stratford-upon-Avon, Cumnor Hill near Oxford, Nailsworth and Tetbury.
Stephen Mooney, for the prosecution, told the court the two men had deliberately chosen elderly and infirm people to burgle.
Phillip Jenkins, 93, was forced to watch as the two men burgled his home.
"It's left me afraid to go out," he said.
"It makes you quite nervous. I still feel unsafe today.
"When I go to bed I've got that feeling that somebody's coming in and you never get over it."
During the period in which the burglaries took place, about £56,000 in cash was paid into a bank account held by Patrick Connors.
The account, still containing £37,000, has since been frozen by police.
'Ruined me'
Speaking after the men were sentenced, Det Insp Tina Robinson said: "All burglaries can have a serious emotional impact but these crimes are all more shocking as the victims were some of society's most vulnerable.
"I hope these sentences demonstrate how committed we are to tackling this sort of crime."
The judge, Recorder Peter Blair QC, told the pair: "A great deal of harm has been done to your victims - many in their 70s, 80, and 90s."
He then quoted one 87-year-old victim who said: "You have ruined me and ruined my life."