Danny Nightingale trial: 'Case built on coincidence', trial told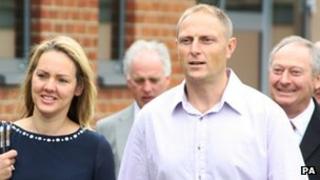 The case against an SAS soldier accused of possessing a pistol and ammunition is built upon "pure coincidence", a court has been told.
Sgt Danny Nightingale denies illegally possessing a Glock 9mm pistol and 338 rounds of ammunition in his bedroom.
The weapon - said to have been brought back from Iraq - is identical to one his housemate admitted to obtaining there, the court martial heard.
It was "chance" they both ended up in the same house separately.
Psychologists told the hearing earlier on Monday that previous accounts from Sgt Nightingale should not be relied upon.
He said the account he gave police - in which he confessed to bringing the gun back from Iraq in 2007 and keeping leftover ammunition from training sessions in the UK - was a "false confession" caused by a brain injury he suffered in 2009.
'Exercise caution'
Giving evidence for the defence, two psychologists said earlier that Sgt Nightingale, from Crewe in Cheshire, had serious memory problems after collapsing in 2009 during an endurance event in Brazil.
Clinical psychologist Dr Susan Young told the court martial in Bulford, Wiltshire, he had "confabulated", meaning he filled in gaps in his memory with false experiences.
Professor Gisli Gudjonsson, an emeritus professor at Kings College London, said: "Obviously you have to take the totality of his circumstances into account but I would say in view of his brain injury and in view of his memory problems, including confabulation, extreme caution should be exercised in relying upon accounts that he gives."
The court has been told the two weapons were discovered by civilian police in September 2011 when they raided the private rented house Sgt Nightingale shared with an SAS colleague known only as Soldier N.
His housemate has previously admitted firearms charges and received two years' military detention.
'Simple question'
In his closing speech William Clegg QC, defending Sgt Nightingale, said: "In 2003 two guns arrived in Iraq.
"They are identical to each other in every respect. There are probably hundreds of thousands of firearms in Iraq of all different shapes, sizes and calibres from all different countries in the world.
"But these two arrived from the same source, from the same factory in Austria in the same year, 2003.
"Of all the hundreds and thousands of firearms in Iraq, eight years later these two identical guns both end up in the same semi-detached house here in England thousands of miles away.
"Let's not get away from the prosecution case - their case is that it is pure coincidence."
He told the court martial panel: "If you have got two guns making separate and independent journeys halfway across the globe, three years apart from the same source.
"You might think it is the most remarkable coincidence."
Timothy Cray, prosecuting, asked the panel to consider who put the weapon in the bedroom.
He said: "Everything in that trial comes down to that simple question.
"Although the evidence has taken us to Iraq, Afghanistan and areas of psychiatry, ultimately your verdicts depend upon a bedroom - a pistol in the wardrobe and ammunition under the bed.
"Either it was the defendant as he told the police or do you believe what the defendant tells us now and therefore it must follow from his case that Soldier N must have put them there?"
The trial continues.