General Synod approves Diocese of Leeds merger plans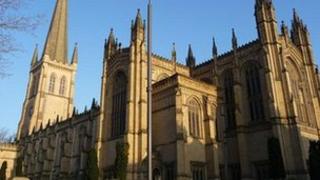 Plans to merge three Yorkshire dioceses have been backed by the Church of England.
A draft scheme to axe the dioceses of Ripon and Leeds, Bradford and Wakefield have been approved by the General Synod, the Church's national assembly.
All three would be replaced by a single new diocese of Leeds, known as West Yorkshire and the Dales, and could come into effect as early as 1 January.
The proposal was previously rejected by the Wakefield diocesan synod in March.
Under the scheme, there will be a new bishop, the Bishop of Leeds, with two new suffragan or area bishops, for Bradford and Huddersfield.
The three existing cathedrals - Bradford, Ripon and Wakefield - will remain. But Leeds Parish Church, known as Leeds Minster, will be made a "pro-cathedral".
'Declining congregations'
Professor Michael Clarke is chairman of the dioceses commission, which drew up the scheme. He told the General Synod the changes were not a criticism of the dioceses.
"I am conscious of the rich history and successes of the three dioceses," he said.
"In no sense is the proposal for a single new diocese to be read as criticism of the past or of the present. Rather the opposite.
"However, they now face the major challenges of declining congregations, reduced numbers of clergy, weakened finances, pensions costs and so on faced by us all."
The Archbishop of York Dr John Sentamu supported the changes.
He believed the commission had come up with the "best solution" for the three dioceses in this "particular part of God's own county".
"The key to this is a call to a collaborative way of working, not allowing ancient boundaries to stand in the way of effective mission," he said.