MPs seek meeting over Coventry Northampton ground share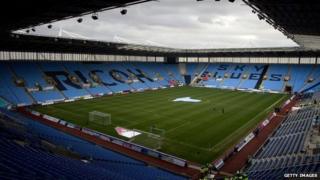 Two Coventry MPs want to arrange an urgent meeting with Coventry City's owners, the league and city council to keep football at the Ricoh Arena.
It follows a decision by the Football League to allow Coventry City FC games to be played in Northampton, a step welcomed by the town's borough council.
City council leader Ann Lucas said she was devastated by the Sky Blues' move.
Northampton Borough Council leader David Mackintosh said his job was to make travelling fans welcome.
Coventry MPs Jim Cunningham and Geoffrey Robinson said they were "acutely aware" of the long-running dispute between Coventry City FC, which is in administration, and the owners of the Ricoh Arena ACL over stadium rent, match-day revenues and ownership.
However, the prospect of games being played outside the city dismayed them, they added.
They have tabled a Commons motion calling on the sports and tourism minister to convene an urgent meeting between the club, the Ricoh Arena owners, Coventry City Council - which owns half of ACL - and the Football League.
Their aim is to negotiate an interim arrangement to keep games in the city until a final settlement can be reached.
Season ticket boycott
Mr Mackintosh said: "I can really understand the Coventry fans' frustration.
"My job is to try and make fans that do come to Northampton as welcome as possible.
"I've called a meeting this week to talk to residents associations and the two teams.
"We're going to involve the police and all other agencies to try and make it as easy as possible for people arriving.
"We won't benefit in any way financially from this but what we are keen to do is to make sure that if we have got people coming to Northampton to visit that they enjoy their time here."
Ms Lucas said: "As a lifelong Sky Blues fan I'm devastated by the news that confirms our football club won't be playing in its own city next season and for the next three years.
"The football club should be the beating heart of our city, and I just can't imagine how it's going to be for Sky Blues fans next season.
"I - like thousands of other fans - will not be buying a season ticket this year, and I will not be travelling a 60 mile round trip to see my team play at home."