Why do prison officers engage in relationships with inmates?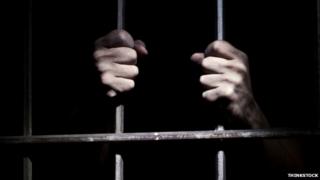 A prison officer from the West Midlands has been jailed for more than two years after having sex with an inmate. She is not the first person in the role to engage in sexual activities with a prisoner. So why do officers allow themselves to have such relationships?
A prison officer knows that engaging in a sexual relationship with an inmate risks not only their job, but their safety and ultimately their liberty.
But for some, it appears to be a risk worth taking.
Julie Turton, formerly in charge of 160 inmates on M wing at HMP Birmingham, is getting used to life on the other side of the bars after a sexual relationship with inmate Danny King and supplying drugs to prisoners.
Last year, prison officer Rebecca King, from Selby in North Yorkshire, was jailed for three years for helping her inmate lover by putting credit on his phone.
And in 2009, a prison officer who had a baby with an inmate at HM Aylesbury Young Offenders' Institution in Buckinghamshire was jailed for two-and-a-half years.
'Forbidden fruit'
Female prisoners in England and Wales have been coerced into having sex with both male and female staff in return for favours such as alcohol and cigarettes, according to a report by the Howard League for Penal Reform.
However, the reasons behind the more "consensual relationships" that have resulted in officers being jailed are less easy to identify.
Consultant psychologist Elie Godsi suggests it is the artificial nature of the prison environment that can lead people who would not normally be attracted to one another to overstep boundaries.
He said it could also be down to the lure of "forbidden fruit" that attracts others.
"These are not normal relationships, these are rose-tinted," he said.
"These people are not seeing each other under normal circumstances.
"The inmates don't have to worry about money for rent, or paying for food, they are pretty well looked after.
"And the boundaries between people in prison are very rigid.
"There is an element of the forbidden fruit and some people are attracted to that."
'Incomprehensible idea'
Mr Godsi said inmates often acted differently to how they would outside because they wanted to avoid trouble.
Such relationships can be mutually beneficial. Inmates, he said, can gain privileges, while officers can feel at ease knowing "their man" returned to his cell when they go home.
"Some of these women [officers] have a history of difficult or abusive relationships," he said.
"But this is safe. They cannot be violent because there's a lot of people around."
However, such relationships remain rare. Barry Pickering, who worked at Featherstone Prison in South Staffordshire for 13 years until retiring in 2004, says relationships would develop between officers themselves, but he was aware of no cases where an officer entered into a sexual relationship with an inmate.
The thought would have been "incomprehensible", he explained.
"There were often relations between officers but [with the inmates] it was always a 'them and us' thing," he said.
Asked about the recent cases, he said: "I don't know if there is a common denominator. Maybe the officer is flattered by the attraction of a younger guy?
"You might get an officer who has come out of a relationship and is seeking comfort and solace? I don't know."
Glyn Travis, from the Prison Officers Association, stressed that such relationships were rare. But he said people could fall in love at any time.
"Often the heartstrings pull and there is nothing you can do," he said.
'Bad boy image'
He said there were some individuals who might also be in awe of people who have a criminal background.
"Prisoners are often not the most hygienic, well-kept people," he said.
"It's not like they walk around looking like movie stars. They are often dishevelled, tired, often they haven't shaved for days. It may be the persona, it may be the bad boy image. I don't know."
A spokeswoman for the Ministry of Justice could not give details of any specific initiatives to tackle sexual relationships between inmates and officers.
But, she said a unit was set up in 2007 to identify corruption, which covers the issue.
"The vast majority of Prison Service staff are honest, hard-working professionals," she said.
"Corruption is taken very seriously and there is no place for it within the Prison Service. Anyone who is found to be corrupt will face severe consequences, including criminal prosecution and dismissal from the service."