Men charged over £90m cocaine found in frozen beef shipment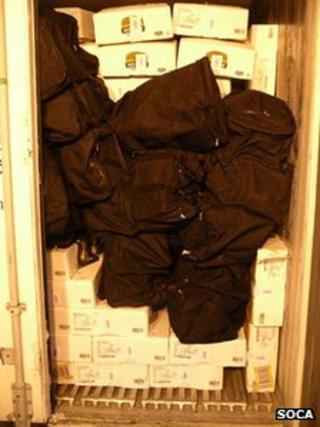 Two men have been charged with conspiracy to import drugs after cocaine with a street value of £90m was found in a container of frozen beef.
About 400kg (880lbs) of the drug were found at Tilbury Docks in Essex in a container from Argentina on 8 May.
James Mossman, 37, of Delaware Crescent, Kirkby was charged with conspiracy to import class A drugs after being arrested on Tuesday.
Liam Dooney, 40, of Wakefield Crescent, Wigan, was charged in May.
The Wigan businessman was the intended recipient of the container of beef, police said.
The shipment was bound for a cold storage business in Wigan.
Mr Dooney was arrested on 11 May while waiting on the concourse at London Euston station after he had been to Wembley to watch Wigan Athletic's victory over Manchester City in the FA Cup Final.
The cocaine was hidden inside bags among the 12 tonnes of meat in the container.
A Serious Organised Crime Agency spokesman said the investigation into the importation was "ongoing".