Cuts of £5.5m made to Devon and Somerset fire service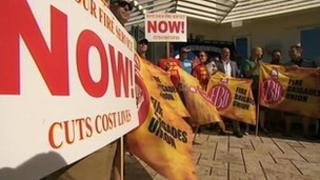 About 150 firefighter posts will be cut, a union claims, as cuts of £5.5m are agreed to the fire service budget for Devon and Somerset.
In Plymouth, three fire engines will be cut from crewed full-time to on-call.
The second fire engine in Torquay is being cut from full-time to on-call and in Ilfracombe the fire engine is being cut from crewed full-time to on-call.
In Taunton the fire station will lose half its full-time firefighters and will keep only one full-time crew.
Two of its three engines will be crewed by retained firefighters.
Cuts to support staff of 5% were also agreed, which amounts to about 40 jobs.
The decision to make the cuts was taken by the fire authority made up of 24 councillors from Devon and Somerset.
'Lives at risk'
The Fire Brigades Union (FBU) executive member for the South West Tam McFarlane, said: "Today was a bad day for the fire and rescue service, a bad day for local people and a bad day for democracy.
"It's clear that those who met today weren't there to represent the views of their constituents or the fire and rescue service, but to balance budgets and implement cuts.
"Union members had collected over 27,000 signatures from the public against these cuts, yet still they were pushed through.
"Quite simply, these changes will put lives at risk."
But Mark Healey, chairman of the authority, said the number of emergency calls was falling and lives would not be at risk.
"The big thing for me after this debate is we will hold our officers to account to deliver our promises to the public," he said.
The authority agreed to spend an extra £450,000 on fire prevention and voted to buy some smaller fire engines, which cost £70,000 each but can carry almost all the same kit as the bigger engines.
And there was approval to continue cutting the number of senior and middle managers.
The authority also announced it will not automatically respond to fire alarms at businesses without fire confirmation, as 98% were false alarms.
FBU Brigade Chair Bob Walker said: "The cuts will result in the loss of around 149 front-line posts."
The union has said as a result of the decision it may ballot its members on possible strike action.