Law to end Dartford Crossing toll barriers in force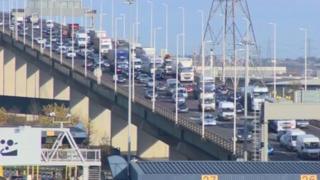 Legislation which will lead to motorists not having to stop to pay at Dartford Crossing toll booths has come into force, the Department for Transport said.
Transport Minister Stephen Hammond approved the law.
Number plate recognition technology will record motorists' journeys and they will be sent bills in the post.
The crossing barriers between Kent and Essex will be removed from October next year.
The Highways Agency said the new "free flow" toll system would improve congestion, but its own figures suggested it could cost as much as £21m a year in unpaid charges, from foreign drivers.
The existing Dartford to Thurrock crossing, which consists of the Queen Elizabeth II Bridge and two tunnels, is used by 140,000 vehicles a day.
Motorists using the Dartford Crossing have been plagued by congestion on a daily basis for several years.
In an effort to combat this, three locations have been put forward as possible sites for a new River Thames crossing between the two counties.
Thurrock and Dartford councils have said they wanted to see the effect of the removal of toll barriers at the existing crossing before another Thames crossing was built.