Trafford General: 'birthplace of the NHS' to lose A&E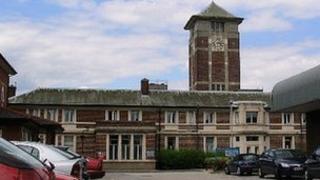 The hospital that treated the first NHS patient is to lose its accident and emergency department.
Health secretary Jeremy Hunt announced that Trafford General Hospital will be downgraded to an urgent care centre and then a minor injuries unit.
He also announced the concentration of vascular services in Cumbria and Lancashire at three specialist centres in Carlisle, Blackburn and Preston.
Campaigners said it would mean patients travelling further for treatment.
Matthew Finnegan, chair of the Save Trafford General campaign, said: "These decisions can't just be made by clinicians.
"They have got to listen to what local people say and people want an A&E. It's not an unreasonable request.
"Local people will be appalled and disgusted that they have not been listened to."
'Clinical benefits'
Mr Hunt told the Commons Trafford was the "smallest hospital in the UK" with the "second smallest accident and emergency department".
Between midnight and 08:00 BST it only sees two patients an hour, he said.
"At peak times it sees seven patients an hour. Half of the population use services outside Trafford.
"For too long, people have not been getting the type of service they should, and deserve to receive."
He also announced A&E services at neighbouring Wythenshawe Hospital are to expand. Trafford will also become a specialist orthopaedic centre with day services expanded.
Mr Hunt admitted some patients would have to travel further but claimed the "clinical benefits outweigh the disadvantages of travel times".
Shadow health secretary Andy Burnham said the Stretford and Urmston MP Kate Green was not informed of the Trafford announcement, which he said was "disgraceful."
He said it was an insult to people who "should have rightly expected the voice of their elected Member of Parliament to be heard".
Ms Green later said that "local people will be angry, horrified and worried" by the decision.
"I'm desperately worried our local NHS simply won't be able to cope," she added.
Dr Nigel Guest, chief clinical officer at Trafford Clinical Commissioning Group, said the change was "vital to secure a long and vibrant future for the hospital".
A Department of Health spokeswoman confirmed that changes will only take place at Trafford once assurances have been given that the three neighbouring A&E departments can continue to provide the same level of service and consistently meet standards.